Coco Chanel famously said: "A woman needs ropes and ropes of pearls". Pearls are a Nature's ultimate gift to women. Their glare enlightens and rejuvenates a woman's face, and adds elegance.
Initially, only natural pearls occurred in nature, but due to their scarcity they were reserved for crowned heads only. In time, people learned to farm pearls. Thanks to this, pearls became available to a wide range of women. Natural and cultured pearls, depending on the fact whether there was a human's intervention, are divided into two categories: freshwater and saltwater. Another distinction, based on shape, regards round and baroque pearls.
Our offer includes jewellery with cultured freshwater pearls of almost perfectly rounded shape, smooth surface, free of any defects, and with a beautiful glare. We design and make the jewellery by hand in Poland. We are a direct importer of pearls. We thread pearls on silk threads, separating each pearl with a node to prevent them from hitting against each other, as well as from scattering in case of a broken necklace or bracelet. Such necklaces with nodes look better on the neck. Our products are packed in elegant Organza pouches.
Pearls owe their timelessness to their extraordinariness. They are perfect for all ages, every outfit, and any place. They can be worn at any time of the day and in any circumstances. In her bestseller The One Hundred: A Guide to the Pieces Every Stylish Woman Must Own, Nina Garcia placed a PEARL NECKLACE on the 65th spot of the things every woman should have.
Pearl Care
The best way of storing pearls is to keep them in a pouch. Pearls are sensitive to cosmetics. When wearing pearls, avoid using perfumes, hair spray, lotions and creams. Wait until your skin absorbs the cosmetics, and only then put your pearls on.
The length of necklaces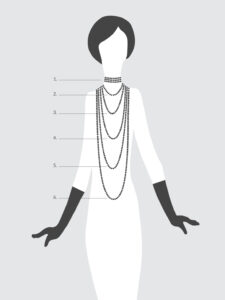 1. Collar: the shortest of all the necklaces, tightly clings to the neck, most often has several strings of pearls. Tested classic for evening.
2. Choker: classic length, loosely entangling the base of the neck. Beautifully emphasises the neckline of dresses. As you can see, it is admiring unrivalled elegance of, for instance, Jackie O. Perfect for each occasion, not only for evenings.
3. Princess: universal and popular length, looks particularly attractive at the edge of a blouse or cashmere cardigan, which allows to treat it as an everyday accessory.
4. Matinée: eye-catching necklace which softly rests on the neckline.
5. Opéra: falls with a single string beneath the breasts line, the name of the necklace points out to relevant occasions; however, more and more often worn also as a casual accessory emphasising feminine individuality.
6. Rope: the longest of all options, single or multiple entangled around the neck. Allows to create different variants of a necklace. Favourite length of Mademoiselle Chanel.